Petrovska opened the meeting of the GAMINGER initiative: reserve officers are an integral part of the security system and a promoter of the Euro-Atlantic values
(On May 25, 2023)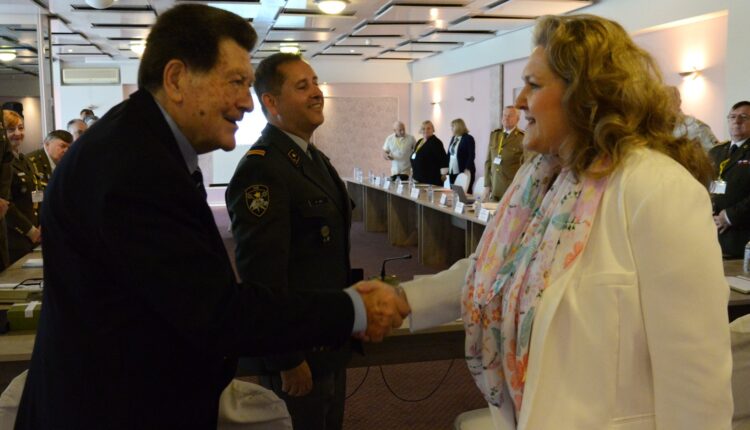 This morning, the Minister of Defence Slavjanka Petrovska opened the spring meeting of the Central European Initiative of Reserve Officers, whose full-fledged member is the Organization of Reserve Officers of North Macedonia.
At the opening, the minister emphasized the importance of the positions and considerations of the reserve officers, taking into account the security challenges of the continent.
"The reality of our continent, the cradle of human civilization, is facing a conventional war, something that was unimaginable just over a year ago. It is this new security reality that requires all of us, the actors in the security sphere, to be clear in condemning the military aggression of one country against another independent and sovereign country, to be loud in the call to end human suffering and the need for reason to prevail", said Petrovska.
Europe, free, safe and at peace, said the minister, is the only solution that is acceptable and therefore all of us, through these or similar formats, must openly discuss that in the 21st century there is no place for military actions on the old continent.
Regarding the organization of reserve officers, she said that the organization has been a key segment of the security of every country.
"The organization of reserve officers is an example of modern action and a promoter of Euro-Atlantic values and the modern understanding of their role in society. The fact that this Organization is developing and closely cooperating with the associations of reserve officers from Europe is proof of the place and role of this Organization in our Macedonian society", said the minister.
The president of the Organization of Reserve Officers, Goce Goergiev, and the president of GAMINGER, Lt. Col. Philip Leo, in his opening remarks emphasized the importance of this Initiative within the European framework and the need for an open discussion about all security issues on the continent.
Source: https://mod.gov.mk/petrovska-opened-the-meeting-of-the-gaminger-initiative-reserve-officers-are-an-integral-part-of-the-security-system-and-a-promoter-of-the-euro-atlantic-values/
Links
www.reservistenverband.de/magazin-die-reserve/gaminger-initiative-30-jahre-zu-gast-bei-kameraden/
https://en.wikipedia.org/wiki/Gaminger_Initiative